Opens New Demonstration Experience Center in Milwaukee, WI
The imaging division of MasterGraphics Inc., a leading provider of software, hardware and services for the manufacturing and building industries, announced the highly anticipated arrival of the HP Jet Fusion 3D Printer that is located in their new Demo Experience Center in WI. The HP Jet Fusion is the first production-ready commercial 3D Printing System. HP Inc. announced MasterGraphics as one of its 3D Printer Specialization partners at RAPID + TCT 2017 on May 8 in Pittsburgh PA.

"We are excited to be adding the HP Jet Fusion to our existing product offerings of first-rate industrial and professional 2D, 3D Print and Scan Technologies. The HP Jet Fusion provides an unmatched ability to push product design and development for our customers in the Midwest by offering a truly production focused system," said Kevin Carr, General Manager, Imaging Solutions Group of MasterGraphics.
The HP Jet Fusion Revolutionizes design, prototyping and manufacturing, and for the first time, delivers superior quality physical parts up to 10 times faster and half the cost of 3D print systems on the market today. By printing functional parts for the first time, HP offers customers an unprecedented ability to transform part properties and deliver mass customization.
About MasterGraphics
MasterGraphics is one of the Midwest's leading providers of technology solutions for manufacturing, architecture, engineering, construction, and civil industries and is headquartered in Madison, Wisconsin, with offices in Milwaukee, Appleton, Chicago and Minneapolis. Serving as a trusted advisor to its clients, MasterGraphics helps to streamline design data throughout its customers' entire process.
Featured Product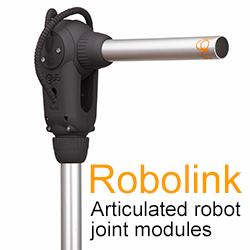 Robolink: Articulated joint modules for robots. igus® now offers a lightweight, maintenance- and corrosion-free range of robot joints for humanoid systems or other automated applications. The carbon-fiber plastic joints can rotate and oscillate freely via four wire ropes. No more expensive milling, cutting or DIY systems. Moving mass is reduced to a minimum. The actuators (engines, pneumatics and hydraulics) and the control module (DP, PC) are kept separate. Contact igus® for more information and free samples.