-How authentication and PKI can protect internet connected devices, machines, and systems -Next generation PKI automatically secures components and devices upon installation
Icon Labs (www.iconlabs.com), a leading provider of security solutions for IoT and edge devices, today announced the availability of its new white paper: "Why PKI Matters for the IIoT."

This new IoT security white paper explains PKI, Authentication, and Certificate Management - how they work, what they are, and how OEMs, manufacturers, and developers can implement the latest technical developments in PKI security technologies.
"OEMs building IIoT devices, and enterprises deploying IIoT networks must be proactive by ensuring the proper security capabilities are built into both the devices and the networks in which they operate," says Alan Grau, President of Icon Labs. "Strong authentication of all devices within an IIoT network is a critical requirement for securing these networks."
Cyber-attacks against industrial control systems, water treatment plants, critical infrastructure, and other IIoT networks are on the rise as is the number of devices that hackers can target. As the number of devices grows, so does the range of opportunities to hack those devices, and subsequently alter the data. The bottom line is we now have a growing number of both targets and attacks, so we must put the cyber-security solution in place to protect these devices.
Just as cyber-attacks take many forms and exploit a wide range of vulnerabilities in the target device, so too is cybersecurity multi-faceted. A fundamental, but often ignored, aspect of cybersecurity for IIoT devices is strong authentication.
Checkout the new white paper at http://www.iconlabs.com/prod/why-pki-matters-iiot
More about Icon Labs
Icon Labs, a 2014 Gartner "Cool Vendor" and 2015 Gartner "Select Vendor", is a leading provider of embedded software for device security, device protection, and networking management. In 2017, Insight Success named Icon Labs as one of the world's fastest growing IoT companies. Icon Labs is known for their award-winning Floodgate Defender and Floodgate Security Framework products. The Floodgate Certificate Authority (CA) and Public Key Infrastructure (PKI) Client offer manufacturers easy and efficient integration of certificate-based machine-to-machine authentication. Founded in 1992, Icon Labs is headquartered in West Des Moines, Iowa, USA
Featured Product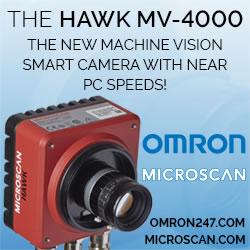 Space, or the lack of it, can be a challenge when placing barcodes or Data Matrix symbols on components. However, readable barcodes are critical to component traceability, time/date stamping, work in progress (WIP) tracking, and recall management. MicroHAWK UHD smart cameras can decode very small and difficult-to-read barcodes, including Data Matrix two-dimensional (2D) symbols and direct part marks (DPM). Users can rely on the MicroHAWK UHD to read symbols with an x-dimension almost invisible to the naked eye!