BMW Manufacturing Company will present at this year's Automation Conference & Expo, May 23-24 in Chicago. Eugene Grant will discuss how BMW leverages automation at the company's largest plant worldwide and the workforce development program that ensures its continued success.
Global automotive industry leader BMW will take the stage at this year's Automation Conference & Expo bringing attendees behind the scenes at BMW's largest vehicle assembly location. Last year this facility, located in Greer, South Carolina, recorded its largest annual production with 440,000 X-models rolling off the line. Eugene Grant, BMW's Scholar Supervisor, will explore the manufacturer's automation strategy and how they sustain a skilled workforce at this 8,000-employee operation.

Comments Automation World Director of Content and the conference program architect, David Greenfield, "BMW's presentation is one of the most exciting keynotes in recent years because of the sheer scale of manufacturing taking place at the facility being discussed. How this industry leader has built a plant that leverages the full potential of robotics and automation, and how they have solved the critical workforce piece is a presentation that will deliver enormous value for professionals across manufacturing."
Also on stage at this year's conference are other leading automation technology end-users including Caterpillar, BP and Snyder's-Lance. Now in its sixth year, the Automation Conference & Expo explores transformative trends and technologies for engineering and management professionals within discrete manufacturing, packaging, and continuous and batch processing. The 2017 program will explore: how companies are using augmented reality for maintenance and repair; measures for enhancing cybersecurity in process environments; 3D printing / additive manufacturing for custom parts; interoperability; virtual machine design and more.
Scheduled for May 23-24 at the Chicago Marriott O'Hare, the Automation Conference & Expo is produced by PMMI Media Group, publishers of Automation World and Packaging World. Registration and additional program details are available at http://www.TheAutomationConference.com or by contacting PMMI Media Group at 1-800-355-5595.
About PMMI Media Group
PMMI Media Group is a market-leading B2B media company that produces information for processing and packaging professionals, bringing together solution providers and end users and facilitating connectivity throughout the supply chain. Its world class media brands — Packaging World, Automation World, Healthcare Packaging, Contract Packaging, ProFood World and Packaging + Processing OEM — are proven leaders in covering this diverse and dynamic marketplace, and its digital products incorporate leading edge media technologies to deliver informed, actionable business intelligence to the industry. Learn more at http://www.pmmimediagroup.com.
PMMI Media Group is owned by PMMI, The Association for Packaging and Processing Technologies, a trade association representing more than 700 companies that provide a full range of processing and packaging machinery, materials, components and containers. PMMI actively brings buyers and sellers together through initiatives such as packexpo.com, educational programs and world-class events, connecting participants in the processing and packaging supply chain with their customers around the world. The PACK EXPO trade shows unite the world of processing and packaging to advance the industries they serve: PACK EXPO International, PACK EXPO Las Vegas, Healthcare Packaging EXPO, PACK EXPO East, EXPO PACK Mexico, EXPO PACK Guadalajara and ProFood Tech. Learn more at http://www.pmmi.org.
Featured Product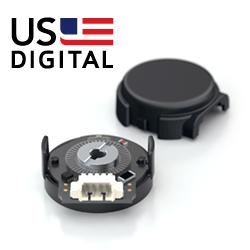 US Digital is pleased to announce the launch of the E4T, their latest series of miniature high performance optical encoders. The E4T series delivers a marked performance increase over similar encoder models and designed to be an enhanced replacement for the E4P encoder series. The E4T utilizes state of the art transmissive optical sensing technology, and incorporates US Digital's own proprietary OptoASIC. Assembly of the E4T is simple and efficient and retains the previous E4P's form factor. Key features of the new E4T include: • Mechanically and Electrically Interchangeable with E4P • Improved Quadrature Signal Strength • 100 kHz Frequency Response • Transmissive Optical Design • Collet Style Push on Optical Disk Design (Patent Pending) • Simple & Efficient Assembly Process As with all of our products the E4T is designed and manufactured in their Vancouver, Washington USA facility and is available for purchase as of December 2014.