USA's Formlabs, Taiwan's DMP Electronics and Singapore's own Creatz3D Pte Ltd among international exhibitors
Singapore, 9 January 2017 - Rising Media, the global events producer in Internet and

technology-related conferences and exhibitions, will host the fourth edition of
Inside 3D Printing - Singapore's only annual 3D printing event and Asia Pacific's leading 3D
printing trade show from 14 to 15 February. Held at the Suntec Singapore Convention &
Exhibition Centre, the event will give attendees access to expert conferences and
demonstrations of the newest technologies in 3D printing.
Breaking new ground in 3D printing locally and abroad
Since 3D printing caught mainstream attention in 2012, the world has seen a flurry of
increasingly creative ways to harness the technology. From the advent of 3D-printed food to
luxury retailer Louis Vuitton's 3D-printing of an entire pop-up shop, scientists and corporate
leaders alike are just beginning to explore the endless opportunities that the technology
brings.
In Singapore, homegrown startup Gilmour Space Technologies last year became the first
company in the world to successfully launch a rocket using 3D-printed fuel . Researchers from
the Nanyang Technological University (NTU) developed a new ultrasound device that
produces sharper images through 3D-printed lenses, while the Singapore University of Design
and Technology (SUTD) is exploring the use of 3D printing to reproduce artefacts .
The Singapore Centre for 3D Printing was launched by NTU on 17 May 2016 , and is set to
receive S$83 million in funding from industry and government partners over the next 10
years. With the industry enjoying strong support and growth, there is no better time than now
to get in on the action at the Inside 3D Printing Conference & Expo.
The Singapore stop of this global trade show series features exhibits by industry leaders from
around the world. Local companies Creatz3D Pte Ltd and Eye-2-Eye Communications Pte Ltd
will return with exciting new technologies and products, while homegrown Uni-Stat
Technology Pte Ltd, a leading provider of solutions for the manufacturing industry in
Southeast Asia with nearly three decades of experience, will make its inaugural appearance.
Other local exhibitors who have come on board to join this year are 3D Printing Studios,
Shonan Design and Image Transforms.
Foreign exhibitors also include the Massachusetts-based Formlab, with their groundbreaking
Form 2 3D printer, and Taiwan's DMP Electronics, which brings 3D printing technology into
everyday life. With a great selection of programmes lined up, attendees are guaranteed an
eye-opening learning experience and a valuable networking opportunity.
Inside 3D Printing Conference & Expo 2017 show offers free entry to all attendees who
register online before 14th February 2017, while onsite registration is S$20. Registrants will
enjoy full access to the Inside 3D Printing seminars and the Inside 3D Printing expo hall for
the two days.
To register for Inside 3D Printing , please visit:
http://inside3dprinting.com/singapore/2017/register
To sponsor or exhibit at Inside 3D Printing , please contact:
sponsorship@risingmedia.com
Featured Product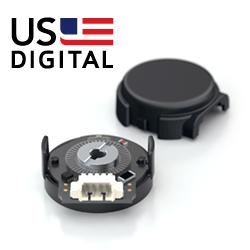 US Digital is pleased to announce the launch of the E4T, their latest series of miniature high performance optical encoders. The E4T series delivers a marked performance increase over similar encoder models and designed to be an enhanced replacement for the E4P encoder series. The E4T utilizes state of the art transmissive optical sensing technology, and incorporates US Digital's own proprietary OptoASIC. Assembly of the E4T is simple and efficient and retains the previous E4P's form factor. Key features of the new E4T include: • Mechanically and Electrically Interchangeable with E4P • Improved Quadrature Signal Strength • 100 kHz Frequency Response • Transmissive Optical Design • Collet Style Push on Optical Disk Design (Patent Pending) • Simple & Efficient Assembly Process As with all of our products the E4T is designed and manufactured in their Vancouver, Washington USA facility and is available for purchase as of December 2014.