Company's success forms the backbone of the local economy
Manufacturing has long played an integral role in the American economy, particularly in creating and maintaining the country's strong middle class. Manufacturing creates a wealth of stable, well-paying jobs in a community, lifting up that community on the local level and also contributing to national economic strength. American manufacturing has also maintained a steady reputation for top-quality products, which contributes to the industry's economic strength.

Over the years, more and more manufacturing jobs have moved overseas in search of cheaper labor markets and the once-strong base of manufacturing jobs in the U.S. has shrunk. The economy on both a national and local level has borne the cost as so many of these stable, well-paying manufacturing jobs have left American communities.
Recognizing the need to stem the tide of jobs leaving the country in order to maintain strong local economies and support the country's overall financial health, political figures have once again begun to support U.S. manufacturing. There is a particularly strong focus on relatively small, American-owned companies that form the backbone of American communities and help to bridge the gap between the older, skilled workforce and the next generation of workers.
One example of such a company that exemplifies the positive role that strong manufacturing can have is RAE Corporation, a family-owned HVAC and refrigeration equipment manufacturer located in Pryor, Oklahoma and committed to keeping all of its jobs within the U.S. The company's history and the strong influence it has on its local community help to demonstrate why manufacturing is such a critical part of the American economy.
A history of building a business - and key relationships - through hard work
RAE Corporation was founded by Jim Swank, an air conditioning professional who decided to go into business to provide high-quality custom cooling equipment to customers, along with excellent service and support. He started the company in 1971 with 5 co-founders, intent on manufacturing custom equipment to meet the specifications of each customer, rather than providing the same sort of standardized products offered by other companies at the time. Now in their 45th year of business, the company is debt-free and run by Jim Swank's son, Eric.
"Through so much hard work, sacrifice, good decision making and building critical relationships, my dad and his business partners were successful. Now, the current company employees and management benefit from what was built by the generation before us, and we continue to build our success for future generations," said Eric Swank, President & CEO of RAE Corporation.
From its founding through recent years, RAE Corporation has been able to carve out its own unique position in the HVAC and refrigeration industry. The company, which currently employs about 300 people, is still focused on designing and providing custom solutions to customers, providing value based on each customer's unique needs. Fulfilling that place in the market requires constant adaptation in response to customers' needs, Swank said, and also relies on the company management balancing taking risks and finding new opportunities with making financially responsible decisions. Also weighing in to that balance has been a consistent commitment to keep jobs within the U.S., rather than moving work overseas in order to reduce costs to the detriment of the economy at home, like some competing companies have done.
"Management has been able to grow the company by responding directly to the needs of the industry and designing the highest-quality products to meet those needs," Swank said.
In addition to finding its own defined place in the HVAC and refrigeration marketplace, Swank noted that much of the success of RAE Corporation can be traced to the company's culture and overall atmosphere. RAE Corporation has grown significantly since its founding, but has remained a company whose culture is founded on a sense of community and family.
The Small Business Difference
RAE Corporation employees value the company's small, family atmosphere and have a deep satisfaction with their work. This supportive corporate culture leads to greater success in top-quality manufacturing and customer relations, said Kari Mace-Russell, Human Resources Manager at RAE Corporation.
"The people who work here like that they are known by their supervisors and management and that they are trusted to make their own decisions about how to do their work most effectively," Mace-Russell said. "Employees are also motivated to work harder and produce even better cooling equipment because they understand how their work impacts customers. Supervisors share stories of how the team's hard work on custom projects has improved customers' applications and that motivates everyone to continue working towards excellence at every step along the way."
The company's family culture and dedication to excellence pervades every aspect of operations and attracts top people for jobs throughout the company. Additionally, RAE Corporation is an influential partner in the development of the local workforce, partnering with local educators and initiatives to prepare the next generation of manufacturing employees.
"RAE Corporation works with the MidAmerica Workforce Development Board, an organization which connects local businesses with educators and community leaders. The Board is dedicated to creating a long-term talent pipeline that will sustain local businesses in the area and connect the emerging workforce with local career opportunities," Mace-Russell said. "This partnership is mutually beneficial, ensuring that workers are prepared for and can find jobs and that companies like RAE Corporation can rely on a local workforce to provide the highest-quality equipment to our customers."
The RAE Corporation dedication to employees and the surrounding community goes beyond a desire to foster company growth; the company's community-oriented culture extends to employees providing care to co-workers in times of need. Initially, this began as a response to employees whose lives were suddenly disrupted by cancer. Coworkers responded by organizing fundraisers to offset medical expenses; the program received so much interest from employees that it gradually transformed into a long-term support system: the RAE Family Foundation (RFF).
"Inspired by the outpouring of support for people in need, and recognizing the impact that a formal organization could have, the RAE Corporation employees organized regular fundraising activities in order to have a reliable source of support for anyone in the RAE Corporation family who experienced a medical emergency or similar life crisis," Mace-Russell said. "Response from the community has been so great that on top of the emergency fund, the RFF now runs a scholarship program to support RAE Corporation employees' children who pursue higher education."
From a strong history of hard work and success, to a consistent culture of community support, RAE Corporation exemplifies the kind of exceptional manufacturing environment that can provide a strong, stable foundation for a local economy. These kinds of American manufacturing firms are the backbone of their communities, and together have a strong positive impact on the national economy.
Featured Product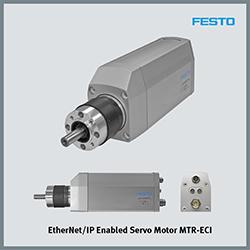 Mechatronic Motion Solutions from Festo is a unique system of components, modules, and software. It integrates all types of pneumatic, servopneumatic and (electro)mechanical automation motion and combines them according to your task. Irrespective of the control system environment you use, Mechatronic Motion Solutions always provides the appropriate interfaces. The fingers can be actively moved and their strength amplified; the operator's hand movements are registered and transmitted to the robotic hand in real time. The objectives are to enhance the strength and endurance of the human hand, to extend humans' scope of action and to secure them an independent lifestyle even at an advanced age.