New Tool, Part of Marketplace Transparency Initiative, Will Help Suppliers Quote More Effectively
Marietta, Ga. - Nov. 29, 2016 - MFG.com, the world's largest online manufacturing marketplace, announced today the implementation of a Buyer Reputation scorecard, a new profile feature that allows suppliers to view a buyer's tendency to award jobs before responding to a request for quotation (RFQ). The scorecard, made available to all paid suppliers on MFG.com starting in January 2017, will show the buyer's percentage of awards compared to the number of RFQs uploaded onto the platform. Concurrent with implementing this measurement system, MFG.com is encouraging buyers to respond to unsuccessful bidders with feedback on the rationale behind their award decisions.

Suppliers using the MFG.com platform are not guaranteed that all posted RFQs will be awarded. However, by encouraging buyers to award jobs to appropriate suppliers and, in the case of declined quotes, to provide an explanation as to why a quote was rejected, MFG is working to ensure that suppliers gain insight on how to offer better quotes in the future. Likewise, it is anticipated that the award scorecard will enable suppliers to be more selective in the RFQs to which they respond, saving them time, money and resources.
Bo Hagler, chief executive officer, MFG.com, said, "MFG.com is continually working to improve our user experience and ensure our suppliers have the best possible chance at being awarded projects. Creating a proposal is both time consuming and expensive. However, receiving feedback from buyers will add value to the process, even if the bid is unsuccessful, because the explanation will allow for better decision-making going forward. Our Buyer Reputation scorecard also will allow suppliers to make more informed decisions on the RFQs to which they should respond based on percentage of RFQs awarded, past experience and other factors."
From now through the end of the year, buyers are being given the opportunity to clean up un-awarded or un-closed RFQs in their account before the scorecard becomes prominent to suppliers. Higher reputation ratings will result in more bid responses and a better selection of suppliers from which buyers can choose.
About MFG.com
MFG.com enables sourcing professionals and engineers to quickly and easily locate quality manufacturers for CNC machining, injection molding, metal stamping, metal fabrication and many other processes through an easy-to-use, online marketplace. MFG.com has helped thousands of manufacturers—ranging from small machine shops to large conglomerates—increase sales and grow profits. For more information, please visit our website at www.mfg.com.
Featured Product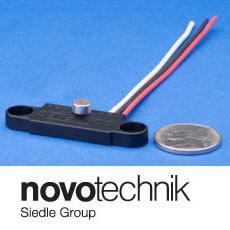 Vert-X 05E Series of dual angle/speed sensors. The series features easy mounting in small and narrow spaces with a 5 mm body depth and mounting flanges with metal inserts. The sensors make measurements only 6 mm from edge of product for close-to-wall measurement applications. Vert-X 05E Series sensors measure angles from 0 to 360°, rotational speed and direction with repeatability to 0.1°.