Buyers' and Suppliers' Insights Bring Manufacturing Industry Trends into Focus
Marietta, Ga. - June 15, 2016 - MFG.com, the world's largest online manufacturing marketplace, announced today the release of MFGWatch 2016 Report & Forecast, a unique source of insights into the current status of North American manufacturing and key emerging trends. Based on survey results reflecting the perspective of both sourcing professionals and contract manufacturers, the report stands as a key resource for economists, journalists, industry professionals and others who seek to understand the major issues shaping the state of U.S. manufacturing today.

Interested parties can download a free PDF version of the complete report by visiting the MFG.com website at http://communications.mfg.com/mfg-watch-2016/.
MFG.com employed two, 13-question online surveys, with one tool designed for sourcing professionals and the other for manufacturers. MFG.com limited the survey pool to companies that had used its Global Contract Manufacturing Marketplace, the largest of its kind in existence today. In total, over 76,000 surveys were sent. The response rate was approximately 1 percent for buyers and 3 percent for manufacturers, respectively. Notably, respondents represented the aerospace, automotive, medical, defense, consumer product, machinery, electronics, energy and communications verticals.
Per MFGWatch 2016, both U.S. buyers and manufacturers see 2016 as a year of growth for their firms. This shared optimism is fueling investments in the workforce, technology and new manufacturing processes to increase competitive advantage. Interestingly, sourcing professionals intend to focus on maintaining or growing their supply base in 2016. Contract manufacturers, on the other hand, see product quality compliance as a pressing concern to be addressed through the certification process.
Bo Hagler, chief executive officer, MFG.com, said, "The MFG.com Marketplace is a microcosm of the manufacturing industry as a whole. Our members' insights offer readers a realistic and accurate picture of the overall state of manufacturing. We are pleased to share our findings with decision makers both within and outside the industry."
MFG.com began publishing MFGWatch in 2009, and it quickly became a trusted and oft-quoted resource of economists, journalists and others seeking information on the manufacturing industry. After a brief hiatus, MFG.com is pleased to once again offer this invaluable resource to the public.
About MFG.com
MFG.com enables sourcing professionals and engineers to quickly and easily locate quality manufacturers for CNC machining, injection molding, metal stamping, metal fabrication and many other processes through an easy-to-use, online marketplace. With more than $115 billion in RFQs passing through the marketplace, MFG.com has helped thousands of manufacturers—ranging from small machine shops to large conglomerates—increase sales and grow profits. For more information, please visit our website at www.mfg.com.
Featured Product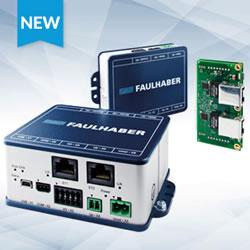 MICROMO launches the new MC3/MCS motion control family. The new high performance, intelligent controllers are optimized for use with FAULHABER motors, offer electronics for simple operation with state-of-the-art interfaces for multi-axis applications, and provide a motion control system solution with the most compact integration into industrial grade housing.