The specialization costs $57 per course or $337 for all four courses in the specialization, capstone project and the specialization certificate. Learners can now register here.
- Registration is now open for Ultimaker's online 3D printing courses. Ultimaker, a leading 3D printer manufacturer, partnered with the University of Illinois, and Coursera, an education platform that offers online courses from top universities and organizations worldwide, to create a series of 3D printing courses that are open to learners around the world. Through four cohesive courses and a hands-on capstone, learners are able to earn an online specialization from Coursera in 3D printing. The specialization costs $57 per course or $337 for all four courses in the specialization, capstone project and the specialization certificate. Learners can now register here.

The courses include:
• An overview of 3D Printing and its revolutionary potential
• An examination of 3D Printing's applications across a variety of industries
• An in-depth exploration of 3D design software
• An investigation of how 3D printers are made and how they operate
"The University of Illinois and the Illinois MakerLab are delighted to be partnering with Ultimaker on this innovative new online program on 3D printing," says Aric Rindfleisch, executive director of the Illinois MakerLab, the world's first 3D printing lab in a business school. "Ultimaker is one of the world's leading providers of desktop 3D printers. Thus, our learners will have the privilege of learning from not only leading academics but also leading practitioners in the 3D printing space."
This educational collaboration is just one aspect of a new strategic partnership between Ultimaker and the University of Illinois. In addition to this Coursera initiative, Ultimaker also helped equip the Illinois MakerLab with 17 new Ultimaker 3D Printers. In recognition of this partnership, the Illinois MakerLab has introduced "Free Print Wednesdays," sponsored by Ultimaker, to give their students the opportunity to experience 3D printing and bring their own ideas to life.
"Ultimaker's vision is to make 3D printing accessible to all and has been reflected in our open source printers and community inspired collaborations," says Siert Wijnia, CTO and founder of Ultimaker. "With Coursera and the Illinois MakerLab, we are helping to optimize 3D printing courses that are available to everyone interested in digital making with our hands-on knowledge of 3D printing."
About Ultimaker
From the very beginning Ultimaker's vision has been to make 3D printing accessible to all. It is why all their desktop printers are extremely quiet, fast, accurate, reliable and effortless to use. Such a commitment has seen them embraced both by professionals and novices alike. This has also helped them to become one of the most successful and reliable open source 3D printing companies in the world. Most recently, the company was awarded best in Best Large Format 2016 in the established Make Magazine and the editors' choice by Digital Trends. To learn more about Ultimaker, visit: https://ultimaker.com/.
Featured Product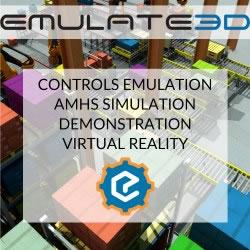 Emulate3D software helps you model and test your AMHS solutions rapidly. Use Demo3D to create running models quickly, then generate videos, stills, or view the models in virtual reality at the click of a button. Sim3D enables you to carry out experimental test runs to select optimal solutions and the most robust operating strategy, and Emulate3D Controls Testing is the best way to debug your PLCs offline, and off the project's critical path. Connect to major PLCs, import CAD, and plug into HTC Vive and Oculus Rift to produce awesome models!